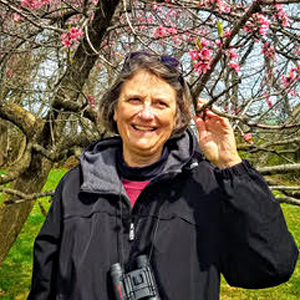 Sara Wenger Shenk Nominated as Virginia Mennonite Conference Moderator-Elect
May 13, 2021
by Jon Trotter
Sara Wenger Shenk has been nominated to be the next Virginia Mennonite Conference Moderator. She is currently retired after serving in theological education as teacher and administrator, most recently as president of Anabaptist Mennonite Biblical Seminary, Elkhart, Indiana, 2010-2019 and earlier at Eastern Mennonite Seminary as Associate Professor of Christian Practices and Associate Dean from 1995-2010.
Her nomination will be voted on by delegates at the Virginia Mennonite Conference Assembly meeting on June 12, 2021.
While living in Harrisonburg, Sara and her husband Gerald helped to launch two new congregations in VMC, which she pastored, and she also served on the FLC. Sara writes extensively and speaks widely in church circles in the US and Canada on topics related to how we come to know God and give voice to our experience of the sacred in daily life.
She has authored seven books, including Anabaptist Ways of Knowing (Cascadia, 2003) and Thank you for Asking: Conversing with Young Adults about the Future Church (Herald Press, 2005). Her newest book is called Tongue-Tied: Learning the Lost Art of Talking about Faith (HP, 2021).
Sara and Gerald are parents of three children and five (soon-to-be six) grandchildren who bring immeasurable joy. She lives near Waynesboro, Virginia, and is pursuing membership at Springdale Mennonite Church.
"I haven't been closely associated with VMC for the last ten years. What I saw from the distance gave me pause. I hope that the conference, as a community of congregations, can generously embrace its mission to 'bring the Good News of Jesus Christ to neighbors near and far' and more freely live into its vision to 'grow as communities of grace, joy and peace.' VMC congregations live in neighborhoods filled with magnificent human beings, rich diversity of gifts and abundant educational opportunities. I would love for the conference to be known for our open-hearted hospitality, trustworthy communication and non-anxious, courageous faith," she wrote.
"My hope and prayer is that VMC, in following Jesus, will lay aside every encumbrance and run with Spirit-filled joy to bring good news to the poor, release for captives, recovery of sight to the blind and freedom for those oppressed, proclaiming that the Lord's favor is for all."