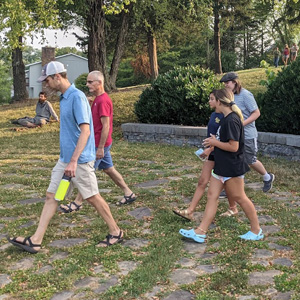 EMU, VMC Youth Council Hosts MYF Gathering
August 9, 2021
by Jon Trotter
Communications Manager
---
1) Moriah Hurst, a member of the VMC Youth Council, gives youth instructions for the photo scavenger hunt. | 2) Brian Martin Burkholder, University Chaplain and Director-Office of Faith and Spiritual Life at Eastern Mennonite University, welcomes the youth. | 3) Youth look for a clue at the EMU water tower. | 4) A small scavenger hunt group on the move to find the answer to another question. | 5) Youth enjoy snacks provided by Eastern Mennonite University's Admissions Office on the Discipleship Center hilltop. | 6) Lucas Yoder shares a personal reflection with the gathered MYF youth. Photos by Jon Trotter
---
Mennonite youth from several Harrisonburg, Va., area congregations gathered at Eastern Mennonite University (EMU) for a combined youth event and photo scavenger hunt on the evening of July 21.
Approximately 40 youth and sponsors attended the gathering hosted by EMU at the Discipleship Center.
The Virginia Mennonite Conference Youth Council coordinated the event, EMU Admissions provided snacks and prizes, and two admissions counselors briefly shared about the university and its Anabaptist values.
Youth were welcomed and given instructions, and then sent out in small teams to find and photograph objects around the EMU campus. Youth were encouraged to think creatively to find the objects, not just to be focused on speed. The two teams with the most points received prizes of EMU gear. Then the group watched a slideshow comprised of photos from their scavenger hunt adventures.
Lucas Wenger, a college student at EMU, shared a reflection on his journey to unburden himself from too much work and find God and joy in little moments. Sometimes we make the same mistakes, but it is important to trust ourselves and our instincts. He also shared the wisdom of finding blessings in what we may regard as curses, and vice versa, to be able to reflect and find joy and the presence of God in even difficult situations.
The VMC Youth Council hopes to coordinate future combined opportunities for youth to gather and have fun together.
The Council is represented by Mark Harmon, Director of Youth and Young Adult Ministries at Harrisonburg Mennonite Church, and Moriah Hurst, Nurture and Faith Development Pastor at Park View Mennonite Church, and Deb Horst, Associate Pastor of Christian Formation and Youth.