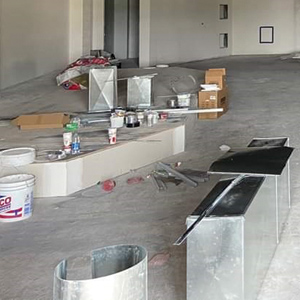 Eastside Church Awarded JoinHands Building Grant
November 1, 2021
by Jon Trotter
VMC Communications Manager
---
Eastside Church, a Virginia Mennonite Conference congregation in Harrisonburg, Va., embarked on a building purchase and complete renovation at a bad time. As building materials skyrocketed in the pandemic, the project suddenly cost much more than budgeted and raised.
"It is likely no surprise that a building project during the pandemic, with greatly increased material costs, went over budget. After a successful vision campaign in which God provided beyond our expectation, we still had financial need to complete our project," Pastor Matt Schwartz noted.
Through the JoinHands Mennonite Church Building Program, Mennonite Men provides grants to help new congregations acquire their first church building. Mennonite Men has given over 2 million dollars to new congregations for this purpose.
"We are very grateful for the generous JoinHands grant," said Schwartz. "Having to completely renovate a space has been time consuming and patience testing. The JoinHands grant is going towards meeting that increased overall renovation budget cost." Swartz wrote.
"As the prices skyrocketed during the pandemic, receiving a generous grant was a tremendous encouragement to the entire team. It was yet another way that we experienced God's abundant provision and affirmation of the work he has called us to," noted Pastor Peter Eberly.
Eastside Church is completely renovating a building in close proximity to an apartment complex where they have a longstanding Kids Club ministry.
Eastside Church has not had a regular place to meet for worship since Covid shutdowns began in 2020. The new building is also close to residential neighborhoods, which Schwartz noted was lacking when they rented space from Skyline Middle School.
"We are excited to begin worshiping in a place that is within walking distance of our Kids Club and many new neighbors."