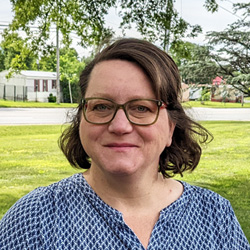 November 3, 2022
by June Miller

from June Miller
Director of Administration and Communications

From Office Manager and Strategic Marketing to Acting Conference Executive, I am now settling into my role on the iCLT as the Director of Administration and Communications at 0.75 FTE.
My responsibilities include:
Administration including assembly planning, Credentials Committee, Leadership Enrichment Committee, Congregational Life Committee, fundraising.
Finance including AR/AP, Budgeting, and Grants
Communication including Pathways, weekly bulletin notes, iCLT News, website
In essence, I am the go-to for general questions and inquiries.
In "normal" times, communication is key. In "unusual" times, communication is essential. It is a weekly topic in our iCLT meetings. We look for the gaps and how to fill them. One new initiative is the iCLT bi-monthly news (and you are reading it).
Beginning with the Fall 2022 issue, Pathways will be back in print. The digital version will be available next week. The print copies will be mailed to congregations, organizations, donors, and any VMC member who would like one. Subscribe below.