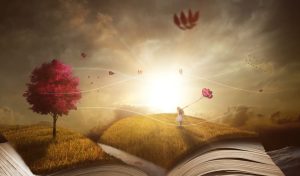 September 29, 2023
by Caleb Schrock-Hurst
Church Relations and Racial Justice Leader
Hope
Because God wanted to make the unchanging nature of his purpose very clear to the heirs of what was promised, he confirmed it with an oath. God did this so that, by two unchangeable things in which it is impossible for God to lie, we who have fled to take hold of the hope set before us may be greatly encouraged. We have this hope as an anchor for the soul, firm and secure. It enters the inner sanctuary behind the curtain, where our forerunner, Jesus, has entered on our behalf. He has become a high priest forever, in the order of Melchizedek. Hebrews 6: 17-20
Hope is one of those foundational Christian characteristics, alongside love, which should differentiate us from the world. Whatever situation we find ourselves in – beaten down, despised, rejected – we have the hope that God is with us and that God is working. We are God's church – a gathering of hope in a world of despair.
This is great to say in theory – but how do we choose and discipline ourselves towards hope? How do we stay in touch with the hope offered to us in Christ? How do we make hope one of our defining characteristics, that we are actively moving towards, rather than just another word among many in the Christian virtue-list?
I believe that we need to intentionally practice hope in the everyday struggles of life. We can walk in hope even in sadness, in drudgery, and in pain – we can share the light of hope right alongside, and intertwined with, the light of Christ.
This is one of the meanings in one of the first Christian songs we learn as children – 'This little light of mine.' We should live out the gospel of hope to the point that people should be a little confused when they get to know us. It seems like foolishness to live hopefully in today's world – but it is part of what makes us God's people.
These are hard times to remain focused on hope as churches – many of us wonder what is next for us: as individual believers, as churches, as a conference, as a denomination, and as the global Christian movement.
When we are tempted to despair over the church, large and small, do we return to the promise of hope that we are told we, the church, are Christ's bride, tasked with being God's hands and feet? Do we seek to live into the hopeful promise that God is not done with us? Have we done enough to remember and practice this hope as a church body, Virginia Mennonite Conference, during these days of storms?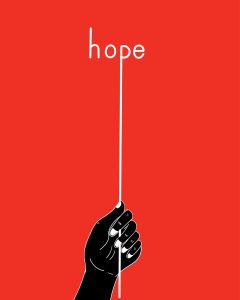 One of the best ways to stay in touch with our hope in Jesus is through communal worship. Recently, I've been reminded how much hope and life I find in Christian music and worship. I'm working on worshiping more than ever – and I'm extremely excited about the upcoming district renewal services which will give us the chance to worship more together. Gathering as believers will give churches near and far the opportunity to get back to basics – to connect once again in our shared hope in Christ. The first two services are already scheduled – the first led by Eastern District at Williamsburg Christian Retreat Center on October 22, the second by Northern District at Lindale Mennonite Church on November 5 – keep your eyes open for more information. I am also continually brought hope by the work of Christ being done in VMC congregations, and I look forward to us gathering more in the coming months.
Lately, I begin most of my workdays by listening to this album written, produced, and performed by members of Early Church, a VMC congregation here in Harrisonburg. The final song – written and performed by my brother – is based on these same words from Hebrews: hope we have as an anchor of the soul.
May the hope of Christ be your anchor, today and always! Amen.