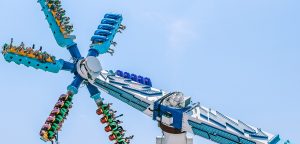 iCLT News Stacking and Layering
September 25, 2023
by June Miller
Director of Administration and Communication

Stacking and Layering
Trust, a verb.
"to rely on the truthfulness or accuracy of: Believe"
"to place confidence in: rely on"
"to hope or expect confidently"
Mirriam-Webster
I can't say that I disagree with Mirriam-Webster, but the definition is ambiguous. If trust is a verb, what does it look like in progress? How is trust built? Brene Brown says that "trust is the stacking and layering of small moments and reciprocal vulnerability over time" (Dare to Lead p34). Trust doesn't wear a cape and leap tall buildings in a single bound.
Do you like to be micromanaged? Why or Why not?  How does it make you feel? Someone doesn't trust you to do the job right. When you trust someone, you afford latitude to another. Brene equates trust with vulnerability. "We need to trust to be vulnerable, and we need to be vulnerable in order to build trust" (p30). When you send your kid off to camp for a week, you trust that they will return with a good experience and in one piece. But now you are vulnerable because your kid is out of your control. My assumption would be that the week at camp was not the first time your child has ever been away from you. It was a progression of steps, a stacking and layering.
Last summer I took a road trip with my daughter, her friends, and the other Moms. Destination Carowinds, an amusement park on the North and South Caroline state line. It's my favorite park. My favorite coaster goes 95miles/hour and the first drop is at 80 degrees. Amazing. But one particular ride, the Electro-Spin, taught me a lesson in trust. It's a 5/5 thrill level. "Electro-Spins ends its riders through a freely rotating orbit, as its arms flip them upside down and all around. This unique ride is sure to leave thrill seekers awed by its arsenal of tangled tricks" (https://www.carowinds.com/rides-experiences/electro-spin).You have a harness bar to pull down over your shoulders, but there is wiggle room. Like when you go upside down you come out of your seat several inches. The first time I rode it I worked hard to stay in my seat. It was exhausting and not enjoyable. I could feel the tension in my face, neck, and arms. The second time I started to do the same thing but decided to just let go. As the tension drained from my body, I was able to be present and enjoy the moment. It was freeing because I trusted the harness to do its job.
I'm a valley transplant. But I recognize that there are deep roots here, but erosion is reeking havoc. In our broken state, what stacking and layering are you doing to build trust?