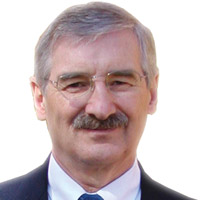 August 31, 2012
by VMC Staff
On July 9, 1972, at the age of 22, in the seventh month of my marriage with Ruth Ann Augsburger, I was ordained to the ministry in Bluesky, Alberta, Canada.
Yes, that is now 40 years! (That would be three children, 2.75 grandchildren, 3 congregational ministry assignments, "x" number of conference and churchwide service assignments, and now 17 years of conference ministry ago).
When the ministerial committee of Northwest Conference of the Mennonite Church heard that Ruth Ann and I were planning to go to seminary at Eastern Mennonite in Harrisonburg, they rather quickly conferred and approved my ordination. The message was inescapable to me, "we want you to return here for ministry following seminary." So, after a conversation with Uncle Harold Boettger (one of the bishops on the ministerial committee) in our little travel trailer on Saturday, I was ordained the next day in an afternoon service. Samuel Nafziger from La Crete (200 miles north of Bluesky!) preached. Ruth Ann's family was on an itinerating singing ministry through the northwest and they sang, "Hark, my soul, seraphic music…" at my request. (Where is that tape?!)
While all of this may seem like it happened in a rush, it was not completely random. How did the ministerial committee whose members were scattered around the conference (and not all my relatives) know of Owen's interest in ministry? They had observed my participation in youth events and, even my sitting in delegate sessions while things other than youth-oriented were being discussed.
For me, a personal call happened when I was 15 years old. I wrote the following in my journal in code: I have received the call of God to the ministry yesterday. It was while we were praying and brother Sam was ordained a minister. The date: fourteenth of February 1965. It was very plain. I'm sure God was present during that service. It was a communion service. (The "Sam," was—you guessed it—Samuel Nafziger, who preached at my ordination.)
That sense of call was deeply influenced by my church-planting family. I watched my father minister in our little community and beyond, no doubt deeply formative for me.
Did I feel inadequate for the task when I was ordained? In every way! The text I chose was I Thessalonians 5:23-24: May God himself, the God of peace, sanctify you through and through. May your whole spirit, soul and body be kept blameless at the coming of our Lord Jesus Christ. The one who calls you is faithful and he will do it. (NIV)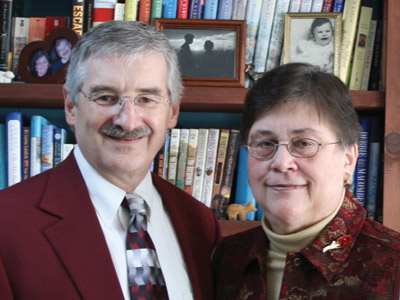 The sense of the faithfulness of God has sustained me through these 40 years of ministry. Watching the transition of the generations and the development of faith has been rewarding. For example, I was privileged to baptize each of my daughters when I was their pastor. Recently, my grandson asked if I would participate in his baptism in his congregational context. God is faithful; He continues to call and sustain persons for ministry.

Photo: Owen & Ruth Ann Burkholder Courtesy of author.