Community VBS at Stephens City engages area church relationships
September 4, 2012
by VMC Staff
This summer, nine churches in the Stephens City area built relationships by participating in a vibrant Community Vacation Bible School.
Pastor James Musser explored the idea of working together as smaller faith communities with a few local pastors. The interest grew and we ended up with people committed from a total of 9 churches in the Stephens City area. Viqui Dill from the exchange, a Winchester-area VMC church plant, and Dee Williams, from a local church, co-directed.
The Stephens City Mennonite Church hosted the Community VBS. The energy level was high. Many adults and teens volunteered. We fed everyone a meal every night. Many area businesses donated food and supplies. The mayor of Stephens City was very supportive and involved.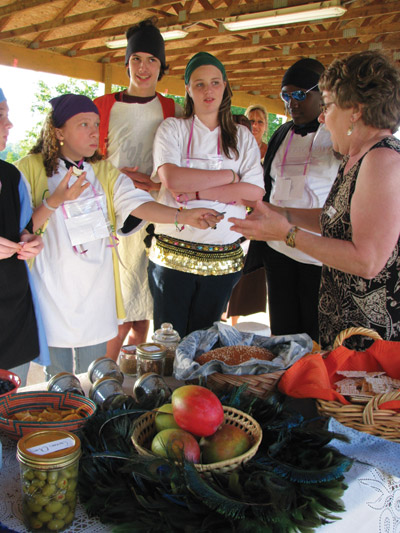 The pastor at the Pentecostal church, Bill Palmer, suggested we support Melody Musser as our global missions project. She is serving in Burundi with MCC who partners with other Christian organizations for peace and reconciliation. The offerings were generous.
The Christian fellowship among these churches has deepened. There were a few issues that needed dialogue and discernment before choosing a direction. Overall, the unity of brothers and sisters in Christ from different denominations and ethnic groups was a witness to God's reconciling love.
Dr. Franklin Roberts, senior pastor of a Baptist congregation, was the adult Bible teacher who said to me, "I have preached at many places, but never at a Mennonite Church." He accepted an invitation to preach on a Sunday morning at Stephens City Mennonite Church.
Top photo: The Stephens City community came together to bless many lives with the VBS event.
Photo at right: Kids and adults learned about the love of God through a variety of sights, sounds, tastes, and experiences in the interactive program. Photos courtesy of author.
.