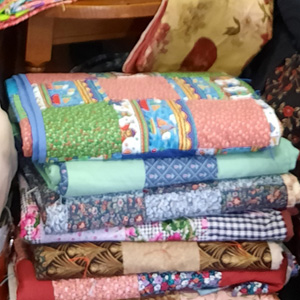 Group Sews "Peace By Piece" at Williamsburg Mennonite Church
April 25, 2022
by Kathleen Kennedy
Member of the "Peace By Piece" sewing group at Williamsburg Mennonite Church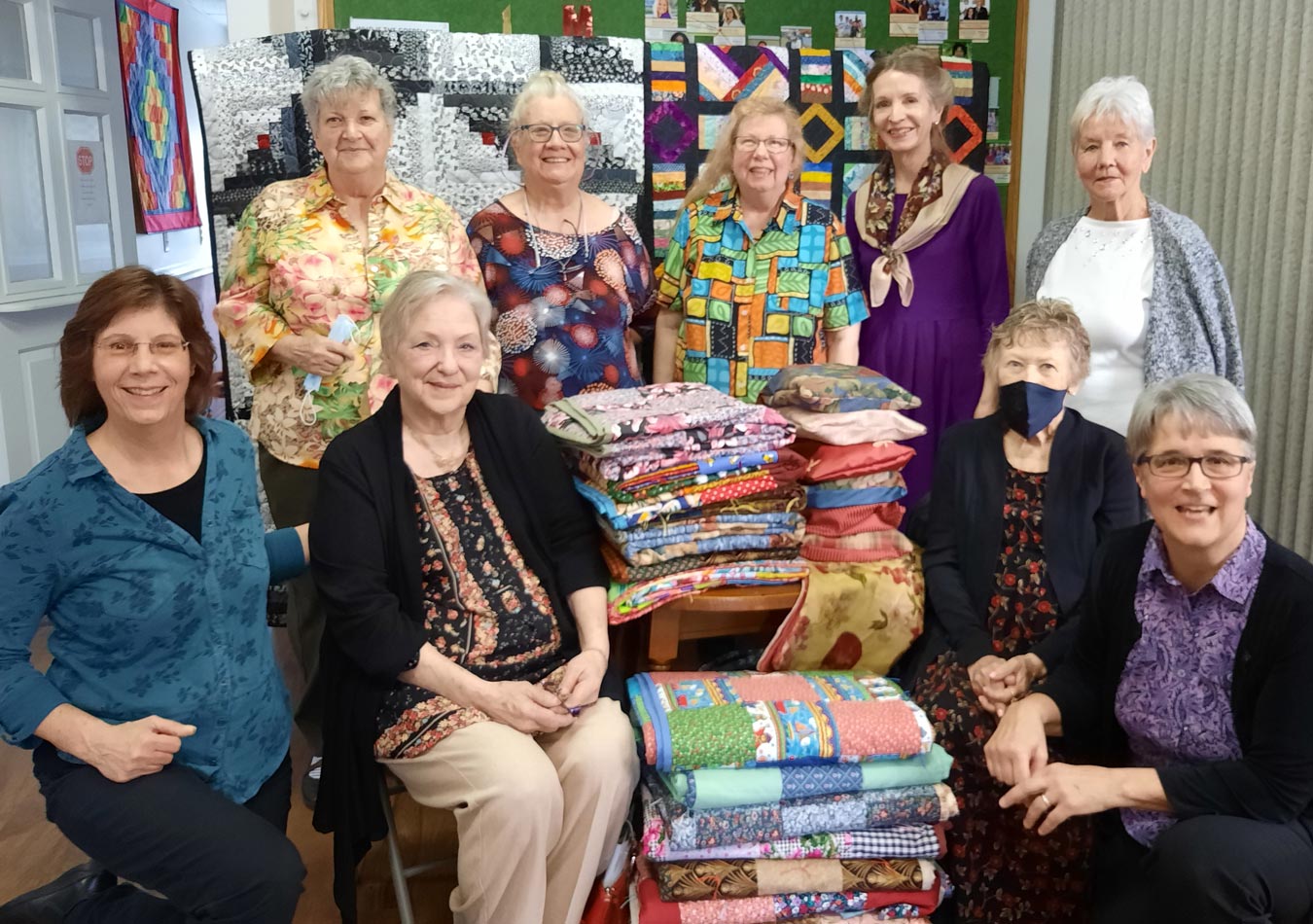 The Williamsburg Mennonite Church (Williamsburg, Va.) "Peace By Piece" sewing group: Front row: Alta Blosser, Mary Jo Evans, Kay Smith and Lavonne Lehman. Back row: Millie Webb, Lorraine Mooney, Wilda Kruzinski, Kathleen Kennedy and Marion Delagrange. In the background are quilts that were auctioned at the relief sale. On the table and floor are school kits and comforters ready to go to MCC in Akron, Pa., for shipping around the world. Photo courtesy of Lavonne Lehman

Each week, and sometimes up to two or three times a week, a special group of like-minded individuals meets in the fellowship hall of Williamsburg Mennonite Church. They love to sew and to quilt, and most of all, to share their talents with others.
Prior to the pandemic, four or five women from the church and three or four from the surrounding community, came to sew and design quilts, cloth bags, and other fabric creations.
Around 2005, Lorraine Mooney started the group as an offshoot from a larger quilting guild in the area. "Peace by Piece" (PBP) reflects hope that their work might somehow contribute peace just as the small individual pieces of a quilt come together in beautiful wholeness. When word spread that the women (and one dedicated male quilter) were sewing for charity, the Lord provided indeed.
Quilters, crafters and seamstresses in the community opened their fabric stashes and a stream of donated supplies poured in. Soon a room in the church held shelves full of bright bolts and spools of color. As the group gained momentum, handcrafted items increased, created by "many hands making light the work."
Participation in "Peace by Piece" is not just for the experienced quilter. Knotting of comforters can be learned in a minute. Working with a group makes the job go quickly and gives even the inexperienced a feeling of accomplishment.
It is gratifying to help produce something that will literally be a warm "comforter" for a refugee. Several persons from the church reached out to a woman in the community whose shop burned to the ground. A beautiful quilt helped express love and concern for her and she responded by growing in love for the Lord.
Another member invited her neighbor, who became a regular participant and grew in understanding of what it means to walk with the Lord.
For the most part the creative sewing for charity has continued during the pandemic although on a smaller scale. Hundreds of masks were made, including 500 made by Kay Smith, who sewed from home. Profits from the sale of "PBP" items at the Virginia Mennonite Relief Sale were reduced in 2020 but otherwise grew from $4,600 in 2017 to $10,100 in 2021.
When able to sew together, conversations are interesting and informative, exchanging practical advice and sewing techniques, with comfortable feelings that encourage the telling of family stories and personal testimonies of those who walk with God.
This has been a fun and natural way to relate to women in the community, making connections through a craft that members enjoy. But it is also an expression of faith that benefits loved ones and those in need. Besides learning new ways to make things, artistic abilities are developed, life-long friendships formed and faith in Jesus is shared.