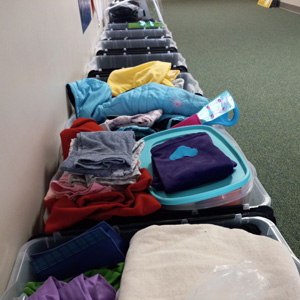 The Blessing of Hospitality
April 25, 2022
by Don Oswald
Member of First Mennonite Church, Richmond, Va.
In October, members at First Mennonite Church in Richmond contacted the local International Rescue Committee (IRC) office with an interest in providing support to a newly-relocated Afghan family.
The IRC is one agency providing refugee resettlement services in the Richmond area. A small group of FMC members formed a team and began raising funds to purchase household items and to subsidize rent.
First Mennonite members and friends were very responsive to the appeal, and we were joined in this effort by members of Williamsburg Mennonite Church who also contributed a generous amount. Members and friends from the community also donated clothing, furniture, and other household items to equip a home.
The Aslami family left Afghanistan in August and were housed at Quantico, Va., for several months. Since the beginning of December, the family has been living in two suites in an extended stay hotel.
In January, we met them for the first time (mother, father and eight children) and began our journey together. Since then, team members have been providing transportation for shopping, health care visits, and mosque attendance; assisting in the search for a home; and preparing to enroll the children in school.
Consistent with the Afghan culture of hospitality, our contacts with the family invariably end with an invitation to tea, despite their limited living situation.
As of this writing, the family is anticipating a move-in date within a short time. The First Mennonite Church team is preparing to provide the house with furniture and household items and to assist the family in the move. The upcoming weeks will be occupied by community orientation, transportation, supporting English language learning, and getting the children into school.
The opportunity to walk alongside this family has been a blessing to us. We have benefited in many ways, including the gaining of a perspective on the lives of those affected by armed conflict, the further revelation of the nature and extent of our privileged lives, and the enjoyment of time with a roomful of active and enthusiastic children.
We continue to learn more about how to respond to the needs of those who have experienced great trauma and loss as well as how to offer support that fosters self-determination and independence.
Our hope is that we will be a welcoming voice in what must often seem like an incomprehensible situation. We look forward to our continuing engagement with this family.
In August 2021, the United States armed forces pulled out of Afghanistan, prompting the evacuation of more than 123,000 civilians from that country. In the weeks that followed, over 15,000 Afghan refugees arrived at the Virginia military bases of Quantico, Fort Pickett, and Fort Lee. Their presence offered an opportunity to put into practice the words of Jesus: "I was a stranger and you welcomed me." (Matthew 25:35)