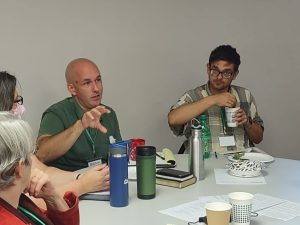 Trauma-Informed Care-Giving
November 22, 2022
by Beth Good
VMC Administration and Leadership Cluster Leader
On September 22, Virginia Mennonite Conferenced hosted a Leadership Enrichment workshop with Dr. Leah Thomas on the topic of Trauma-Informed Caregiving. Dr. Thomas, is the Assistant Professor of Pastoral Care and Contextual Education at AMBS. Ridgeway Mennonite Church welcomed 30 participants who were eager to learn more about how to care for those in our congregations and communities who have experienced trauma.
Dr. Thomas, reviewed key principles of trauma-informed care from Substance Abuse and Mental Health Services Administration (SAMHSA) that include; safety, trust, peer support, collaboration, voice, and cultural consideration. Attendees also participated in exercises that demonstrated various tools for orienting and grounding those who may be experiencing symptoms of trauma.
It was noted that at this time in history, caregivers are often experiencing the same trauma as those we care for as COVID has inundated us with traumatic stress that is "too much, too fast, and too soon". This leaves caregivers struggling to balance the need to care for others with the need for self-care. Yet, we are still called to care and so need to be aware of ways to balance our own needs with those whom we serve.
Dr. Thomas ended with a reference to Somatic Spiritual Exercise which allow caregivers to become more body-aware (self-aware) and deal with our embodied trauma in order to be more empathetic toward others. As leaders of Virginia Mennonite Conference continue to provide care for those in our congregations and communities who are experiencing trauma, it is vital that we take time to care for ourselves. May the Lord bless us with self-care so that we may, in turn, care for others.